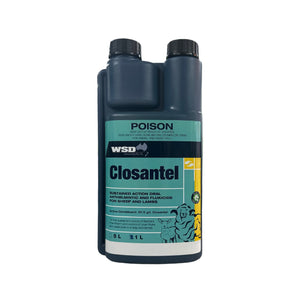 Closantel Sheep Drench - 1L

Safeguard your sheep and lambs from internal parasites with the robust and dependable WSD Closantel Sheep Drench. This 1-litre bottle contains a potent formulation featuring Closantel at 37.5g/L, providing precise control against a range of harmful parasites. Closantel Sheep Drench serves as your answer to maintaining the health and vitality of your flock.

Key Features:
- Narrow Spectrum Treatment: WSD Closantel Sheep Drench is tailored for narrow-spectrum treatment of internal parasites in sheep and lambs. It delivers sustained action against re-infestation by Haemonchus Contortus (Barbers Pole Worm), along with activity against Fasciola Hepatica (Liver Fluke) and Nasal Bots (Oestrus Ovis).
- Controlled Parasites: This drench effectively manages several key parasites, encompassing Haemonchus Contortus (Barbers Pole Worm), Fasciola Hepatica (Liver Fluke) from 6 weeks of age, and Oestrus Ovis (Nasal Bot).
- Sustained Protection: WSD Closantel provides prolonged protection against re-infestation by both mature and immature stages of the Barber's Pole Worm, extending to an impressive 4 weeks after dosing. It also targets all stages of Liver Fluke and Nasal Bots.
- Medium Spectrum Control: Closantel, the active ingredient in this product, embodies a medium spectrum drench. It exhibits high effectiveness against susceptible parasites, delivering essential control and minimizing the risk of infestations.
- Control of Barber's Pole Worm: Barber's Pole Worms can prove detrimental to sheep, inducing anemia and other health complications. WSD Closantel offers management of this troublesome parasite, complete with sustained protection against re-infection.
- Control of Liver Fluke: This drench effectively handles both immature and adult stages of Liver Fluke, encompassing the critical 6-week immature stage. Treating immature flukes reduces liver damage and curbs production losses.
- Enhanced Effectiveness: When addressing Barber's Pole infestations (Haemonchosis), WSD Closantel Sheep Drench can be complemented with other WSD drenches, such as WSD Levamisole Oral Drench for Sheep or WSD Combination, ensuring comprehensive parasite management.
- Optimal Strategy: For maximal effectiveness, couple WSD Closantel Sheep Drench with management strategies such as paddock rotation and resting, fostering the well-being of your flock.

Select WSD Closantel Sheep Drench to shield your sheep from the harmful influence of internal parasites. Ensure the health, endurance, and productivity of your flock by investing in this dependable and efficient solution. Place your order now and encounter the tranquility that arises from comprehensive parasite control for your sheep.