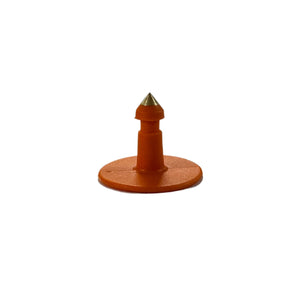 Button Male Two-Piece Ear Tag - Orange

When it comes to ensuring the easy and efficient identification of your livestock, the Button Male Two-Piece Ear Tag is your ultimate solution. Designed to thrive in demanding conditions, this tag offers both practicality and visual appeal.

Key Features:

- Effortless Application: Featuring a two-piece design, applying the Button Male tag is a simple and quick process. Say goodbye to tagging hassles, as this design ensures easy and secure attachment.
- Built to Last: Engineered for durability, these tags can withstand even the harshest UV conditions. Fading is a thing of the past, as the Button Male tags are crafted to maintain their vibrant colors and readability over time.
- Vibrant Color Variety: With a palette of bright colors to choose from, you can easily identify your animals.
- UV-Resistant for Longevity: The Button Male tag is specifically designed to endure extreme UV exposure, guaranteeing that it remains robust and readable throughout its lifespan. Your investment is protected with tags that retain their integrity.

Upgrade your livestock management with the Button Male Two-Piece Ear Tag and experience the simplicity, durability, and visual appeal it offers. Whether you're raising cattle, sheep, or other livestock, these tags are a versatile and dependable choice.