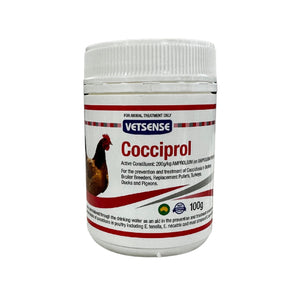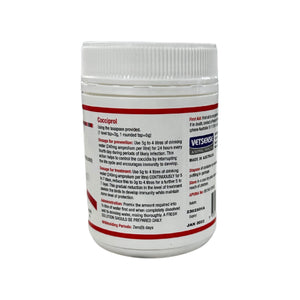 Cocciprol - 100g

When it comes to safeguarding your poultry and birds from the potentially devastating effects of coccidiosis, Cocciprol is your reliable solution. Specifically designed for chickens (including broilers, broiler breeders, and replacement pullets), turkeys, ducks, and pigeons, Cocciprol is the ultimate prevention and treatment method for this harmful disease.

Coccidiosis Protection, Simplified: Cocciprol, by Vetsense, is a potent tool in the fight against economically significant strains of coccidiosis, including E. Tenella, E. Necatrix, and most variations of E. Acervulina. Administered through the drinking water, it's a straightforward, efficient means of protection against this potentially devastating poultry disease.

Key Features of Cocciprol:

- Ease of Use: Cocciprol is easily mixed into your birds' daily drinking water. No need for complicated procedures or specialized equipment. It seamlessly integrates into your existing poultry care routine.
- Preventative and Curative: Cocciprol serves a dual purpose. Use it as a proactive measure to prevent coccidiosis in your flock, or employ it as a treatment if you suspect an outbreak. It's the versatile answer to coccidiosis control.
- No Withdrawal Period: One of the standout features of Cocciprol is that it has NIL WITHHOLDING PERIOD for eggs or meat. This means you can continue to enjoy eggs and meat from your birds without interruption.

Coccidiosis is a serious threat to the health and productivity of your poultry and birds. Cocciprol offers the peace of mind you need to ensure their continued well-being and productivity.

Make Cocciprol an integral part of your poultry care regimen and experience the difference it makes in the health and protection of your flock. Choose Cocciprol for the ultimate defense against coccidiosis, and rest easy knowing your birds are in safe hands.