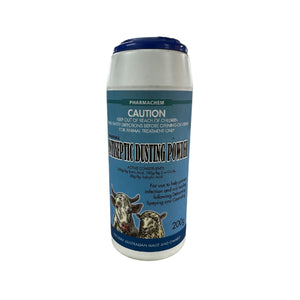 Pharmachem's Antiseptic Dusting Powder - 200g

After the precision procedures of castration, speying, or dehorning, the well-being of your animals is of paramount importance. Pharmachem's Antiseptic Dusting Powder is here to lend a healing hand, ensuring a speedy recovery and guarding against potential infections. This specially formulated powder is designed to be a reliable solution in your livestock management toolkit.

Key Benefits:
- Antiseptic Excellence: This Antiseptic Dusting Powder is a powerful weapon against infections. Its antiseptic properties help to shield wounds from harmful microbes, ensuring a clean healing process.
- Mild Astringent: The mild astringent effect aids in the contraction of tissues, facilitating the natural healing of the treated area.
- Fungicidal Properties: This powder is equipped to combat fungi, further fortifying the recovery process and preventing fungal infections.
- Insecticidal and Fly-Repellent: With the addition of Boric Acid, the powder acts as an effective insect repellent, providing a protective shield against troublesome pests.
- Skin Protection: Thanks to the presence of Zinc Oxide, the formula doubles up as a skin protector, guarding against external irritants and further enhancing the healing process.
- Desiccant (Drying Agent): Salicylic Acid, a relatively insoluble desiccant, ensures that the treated area stays dry, promoting faster healing and reducing the risk of infection.

Safety Note:
While Boric Acid offers insecticidal benefits, excessive use on large wounds may lead to potential boron toxicity through absorption. It's essential to follow the usage instructions on the label to ensure the well-being of your animals.

Pharmachem's Antiseptic Dusting Powder is the result of years of dedicated research and development, making it a reliable choice for veterinarians, farmers, and livestock caretakers. When used and stored as directed, this powder is a valuable asset in promoting a healthy recovery for your animals.

Invest in their well-being. Choose Pharmachem's Antiseptic Dusting Powder, because your livestock deserves nothing but the best in post-procedure care.