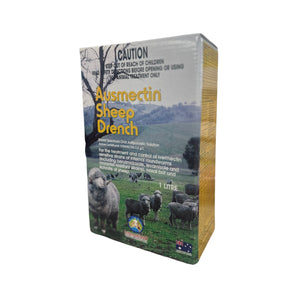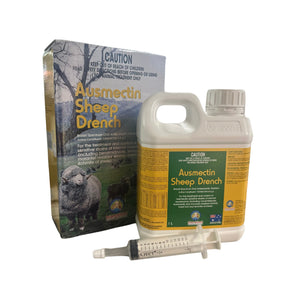 Ausmectin Sheep Drench - Broad Spectrum Parasite Control - 1L

When it comes to safeguarding the health and vitality of your precious sheep, trust Ausmectin Sheep Drench, the ultimate solution for comprehensive parasite control. This broad-spectrum oral antiparasitic solution is meticulously formulated to combat ivermectin-sensitive strains of internal roundworms, nasal bot, and itchmite, ensuring your flock's well-being year-round.

Key Features:

- Complete Parasite Protection: Ausmectin Sheep Drench provides thorough protection against a wide range of ivermectin-sensitive parasites. It effectively targets internal roundworms, including Barbers pole worm, Large stomach worm, Small brown stomach worm, Stomach hair worm, and Black scour worm, among others. Say goodbye to worm-related issues that can affect your sheep's health and productivity.

- Lungworm Defense: This powerful formula doesn't stop there. It also guards against lungworm, ensuring your sheep's respiratory health remains uncompromised.

- Itchmite Eradication: Itchmite infestations can be a source of great discomfort for your sheep. Ausmectin Sheep Drench takes care of this issue by eliminating itchmites (Psorergates ovis) and providing relief to your flock.

- Nasal Bot Prevention: Protect your sheep from parasitic larval stages of nasal bot (Oestrus ovis) with Ausmectin Sheep Drench, preventing potential nasal and sinus discomfort.

- Easy Administration: Administering Ausmectin Sheep Drench is a breeze. This user-friendly oral solution ensures minimal stress for both you and your sheep. Whether you're treating a small group or a large flock, this product simplifies the process.

- Proven Efficacy: Ausmectin is trusted by farmers worldwide for its proven efficacy. You can rely on this product to deliver consistent results, helping you maintain the health and productivity of your sheep.

Directions for Use:

Administer Ausmectin Sheep Drench orally, using a drenching gun or syringe, at the recommended dose for your flock's weight. Follow the provided instructions carefully for best results.

Choose Ausmectin Sheep Drench for comprehensive, broad-spectrum parasite control that keeps your sheep healthy, happy, and productive. Don't let parasites compromise your flock's well-being; trust Ausmectin to safeguard your investment.

Invest in the health of your sheep today with Ausmectin Sheep Drench. Order now and experience the difference in parasite control that only Ausmectin can provide. Your sheep will thank you for it!