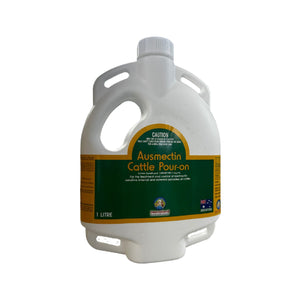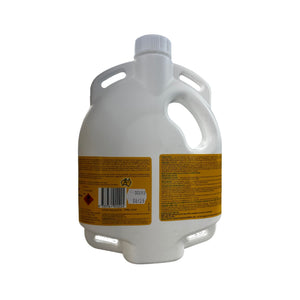 Ausmectin Cattle Pour-On - 1L

Are you seeking a potent, ready-to-use answer to your cattle's parasite problems? Ausmectin Cattle Pour-On is your trusted ally, containing ivermectin, a member of the macrocyclic lactone class of endectocides, renowned for its unique mode of action. It selectively targets invertebrate nerve and muscle cells, leading to paralysis and the ultimate demise of the parasites.

The Benefits of Ausmectin Cattle Pour-On:

Broad Spectrum: Ausmectin Cattle Pour-On is your go-to solution for a wide range of ivermectin-sensitive parasites that plague your cattle.

Indicated for the Control and Treatment of:
- Gastrointestinal Roundworms: Including the notorious inhibited immature Ostertagia ostertagi.
- Lungworms (Dictyocaulus viviparus): Safeguard your cattle's respiratory health with Ausmectin.
- Eyeworms (Thelazia spp.): Keep your cattle's eyes free from the menace of eyeworms.
- Sucking and Biting Lice: No more itching and discomfort.
- Chorioptic and Sarcoptic Mange Mites: Put an end to skin irritations caused by these mites.
- Buffalo Flies (Haematobia irritans exigua): Protect your cattle from relentless fly infestations.
- Cattle Ticks (Rhipicephalus [Boophilus] microplus): Ensure your cattle remain tick-free.
- Residual Protection: Thanks to ivermectin's long intrinsic half-life, Ausmectin Cattle Pour-On delivers exceptional residual protection. The duration may vary depending on the targeted parasite and the pharmaceutical formulation of ivermectin.

Trust Ausmectin Cattle Pour-On to provide comprehensive, long-lasting protection for your cattle against a variety of parasites. With this ready-to-use solution, you can say goodbye to the worries of parasite reinfestations and say hello to a healthier, happier herd.