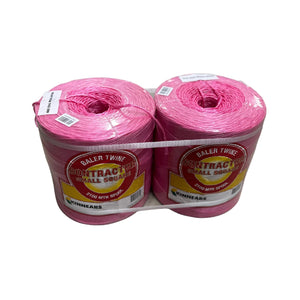 Contractor Small Square Baler Twine - 2 x 2100M - Pink

Perfectly crafted for small square baling, Contractor twine delivers unmatched performance in a compact package, making it an ideal companion for all your baling needs.

Proven Reliability: With a legacy deeply rooted in the Kinnears history, Contractor Small Square Baler Twine is a testament to enduring quality. Trusted by professionals, it brings reliability to every baling task.

Outstanding Visibility: Stand out in the field with the bright pink colour of Contractor twine.

Ideal Spool Size: Contractor twine comes in the perfect spool size, specially crafted for small square twine boxes. This thoughtful design ensures easy handling and convenient storage, making your baling process more efficient.

UV Stabilised for Australian Conditions: Built to withstand the harsh Australian sun, Contractor twine is UV stabilised, providing maximum protection against UV radiation damage. This feature ensures durability and longevity in the challenging Australian climate.

Guaranteed Minimum Length: Trust in the quality of Contractor twine with Tapex's guaranteed minimum length commitment. You can rely on receiving the specified length, offering peace of mind and consistency in your bale wrapping.

Upgrade your baling experience with Contractor Small Square Baler Twine – where reliability, visibility, and quality converge. Choose a twine that stands the test of time.