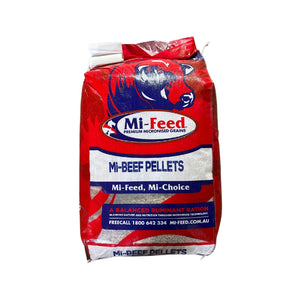 Mi-Beef Pellets - 20kg

The economical and efficient pelletised feed designed to provide a balance of energy and high-quality protein for cattle in supplementary feeding situations. Tailored to meet the nutritional needs of your livestock, Mi-Beef Pellets offer a host of benefits to enhance the overall well-being and performance of your cattle.

Key Features and Benefits:

- Economical & Easy to Use: Mi-Beef Pellets are not only cost-effective but also convenient, minimising wastage and making supplementary feeding a hassle-free experience for livestock owners.

- Premium Protein & Quality Ingredients: Our pellets are formulated with a blend of premium proteins and carefully selected ingredients, ensuring your cattle receive a nutritionally rich and balanced diet.

- Fortified with Vitamins & Minerals: Mi-Beef Pellets go beyond basic nutrition, incorporating a fortified blend of essential vitamins and minerals to promote overall health and vitality in your cattle.

- Rumen Buffers for Acidosis Prevention: To mitigate the risk of acidosis, Mi-Beef Pellets include rumen buffers, maintaining a healthy digestive environment for optimal nutrient absorption.

- Bovatec for Enhanced Growth: These pellets are enriched with Bovatec, a specialised additive proven to improve live weight gains and feed conversion efficiency in growing cattle.

- Coccidiosis Control: Mi-Beef Pellets contain Bovatec to help control the clinical signs of coccidiosis, reducing faecal shedding caused by Eimeria sp. This added protection is particularly crucial for the well-being of growing cattle.

Typical Ingredients:
- Barley malt combings
- Millrun
- Cereal grains (barley, sorghum, and maize)
- Barley malt screenings
- Flour
- Limestone
- Buffer
- Dicalcium phosphate
-Soybean meal
- Salt
- Specialised vitamin and mineral premix
- Magnesium oxide

Choose Mi-Beef Pellets for a comprehensive and cost-effective solution that goes beyond basic feed, providing your cattle with the essential nutrients they need for optimal health, growth, and performance.