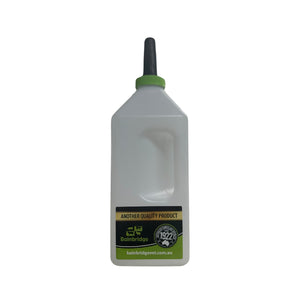 Calf Bottle with Valve - 2L

A reliable and economical solution for nurturing your young calves. Crafted with a robust design, this feed bottle is built to withstand the demands of daily use on the farm, ensuring that your calves receive the nutrition they need in a convenient and durable package.

Key Features:

- Economical Design: This 2L Calf Bottle is a cost-effective choice for farmers seeking a practical solution for feeding calves. The efficient design allows for easy handling and dispensing of milk or formula, making it a valuable addition to your livestock management toolkit.

- Robust Construction: The durability of this calf bottle is unmatched. Built to endure the challenges of agricultural life, it can withstand the rigors of daily use in various farm environments. The sturdy construction ensures a long lifespan, providing a reliable feeding solution for your calves over time.

- Convenient Handle: Featuring a sturdy handle, this calf bottle is designed with convenience in mind. The ergonomically designed handle provides a comfortable grip, making it easy to carry and maneuver during feeding sessions. This thoughtful addition enhances the overall user experience, especially during busy farm routines.

- Supreme Calf Teat with Valve: The Calf Bottle includes a high-quality Supreme Calf Teat with Valve. This specialised teat design ensures controlled milk flow, preventing wastage and promoting efficient feeding. The valve mechanism enhances the overall hygiene of the feeding process, contributing to the health and well-being of your calves.

- Australian Craftsmanship: Proudly made in Australia, this Calf Bottle reflects a commitment to quality and reliability. Manufactured using high-grade materials and adhering to stringent standards, it embodies the excellence synonymous with Australian craftsmanship. By choosing this product, you support local industries and can trust in its performance.

Invest in the well-being of your calves with this calf bottle, a dependable and economical feeding solution designed to meet the unique demands of farm life. With its robust construction, convenient features, and high-quality teat, this Australian-made calf bottle is a testament to durability and functionality in every drop.