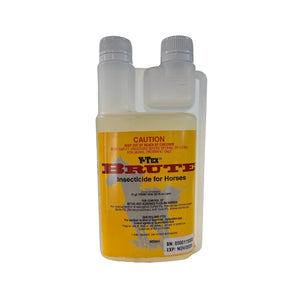 Y-Tex Brute Insecticide for Horses - 500mL

Safeguard your horses from bothersome and biting flies with Y-Tex Brute Insecticide. This potent solution provides lasting control.

- Effectively targets Buffalo Flies (Haematobia irritans exigua), Stable Flies (Stomoxys calcitrans), and House Flies (Musca domestica).
- Provides lasting protection against Sandflies (Culicoides spp.), known culprits of Queensland Itch.

Regular application ensures prevention, reduction, or even elimination of Queensland Itch in horses.

With its rain-resistant and low irritant formula, Y-Tex Brute is a reliable choice for equine insect control.