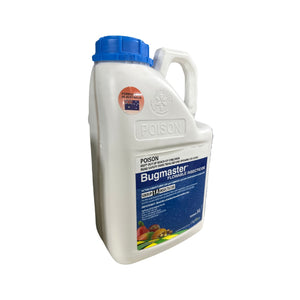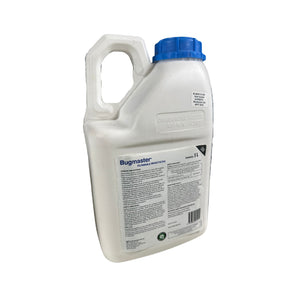 Bugmaster Flowable Insecticide - 5L

When it comes to protecting your valuable fruit, nuts, vegetables, crops, and pastures from a wide array of stubborn insect pests, Bugmaster Flowable Insecticide stands as your dependable ally. With its active ingredient of 500 g/L Carbaryl, Bugmaster offers robust control and a multitude of benefits to ensure your crops thrive, free from invasive pests.

Key Features:

Broad Spectrum Pest Control: Bugmaster Flowable Insecticide is designed to tackle a diverse range of insect pests that threaten your agricultural endeavours. Whether it's fruit, nuts, vegetables, or pastures, Bugmaster has you covered. This versatile solution offers a comprehensive answer to your pest control needs.

Resistant Pest Management: Bugmaster isn't just effective against common insect pests; it also controls insects that have developed resistance to other insecticides. This means you can confidently combat even the most stubborn pests that threaten your crops.

Residual Protection: Bugmaster provides a good residual effect on foliage, ensuring extended protection against persistent pests. Its long-lasting efficacy minimises the need for frequent reapplications, saving you time and resources.

Low Odour: No one wants to work with unpleasant-smelling chemicals. Bugmaster stands out with its low odour formulation, making it a more pleasant and user-friendly option for pest control.

Easy Handling and Mixing: The flowable formulation of Bugmaster simplifies the process of handling, measuring, and mixing the product. This convenience saves you time and effort, allowing for a more efficient pest control operation.

Wide Range of Label Registrations: Bugmaster holds a wide range of label registrations, providing you with a versatile tool for various crops and agricultural situations. Its flexibility ensures it can adapt to your specific needs.

High Crop Safety: Bugmaster Flowable Insecticide delivers effective pest control while prioritising the safety of your crops. With a high level of crop safety, you can use Bugmaster with confidence, knowing it won't harm your plants.

Note: AgNova Technologies recommends that Bugmaster should not be applied to lychee crops during flowering, ensuring responsible and appropriate use in this specific context.

Invest in Bugmaster Flowable Insecticide to safeguard your agricultural investments and maximise your crop yields. With its broad-spectrum control, resistance management, and user-friendly features, Bugmaster is your trusted partner in pest control, promoting healthy and thriving crops.
Click here for more information.