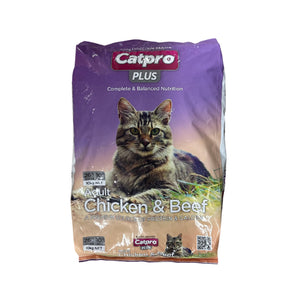 Catpro Plus Cat Food – 10kg

The purr-fect blend of nutrition and flavour tailored specifically for your feline companion's well-being. Crafted with care and precision, this cat food is designed to meet the dietary needs of adult cats, ensuring they lead healthy, active lives.

Nutritional Profile:

- Crude Protein (26%): Catpro Plus boasts a high protein content derived from the finest local ingredients, all sourced in Australia for maximum freshness. This essential nutrient supports your cat's muscle development and overall vitality.

- Crude Fat (10%): The ideal balance of crude fat helps maintain your cat's energy levels, ensuring they stay playful and active throughout the day.

- ME (kcal/100g): With 340 ME (kcal/100g), Catpro Plus provides a calorie-dense formula to meet the energy requirements of adult cats.

Product Benefits:

- Locally Sourced Goodness: Catpro takes pride in using only the best local ingredients, carefully selected from Australia to guarantee freshness. The formula is crafted to promote efficient digestion and absorption, meeting the specific needs of adult cats.

- Complete Nutrition: Catpro Plus is a powerhouse of body-building proteins, essential amino acids, and minerals. This ensures that your cat receives the comprehensive nutrition needed for optimal health and well-being.

- Healthy Skin and Coat: Enriched with Omega-3 and Omega-6 fatty acids, this cat food supports the maintenance of a healthy skin and a lustrous coat, reflecting the vibrant well-being associated with a happy and healthy adult cat.

Formulated for Domestic Cats:

- High Protein with Real Meat: Catpro Plus is specially formulated to meet the high protein requirements of domestic cats. Real meat is a key ingredient, ensuring a delicious and satisfying meal for your feline friend.

- Calcium and Phosphorus: Essential for strong bones and teeth, our formula includes a carefully balanced ratio of calcium and phosphorus to support your cat's skeletal health.

- Enriched with Vitamins and Minerals: Catpro Plus goes beyond basic nutrition, providing an extra boost of vitamins and minerals to support overall health and vitality.

- Rich in Omega-3 and Omega-6: The inclusion of Omega-3 and Omega-6 fatty acids contributes to a glossy coat and helps maintain the overall well-being of your adult cat.

Choose Catpro Plus Cat Food for a nutritionally balanced and flavourful meal that not only satisfies your cat's taste buds but also supports their health at every stage of life. Because a happy cat is a healthy cat!