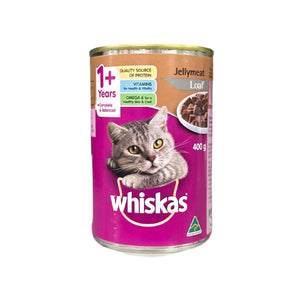 Whiskas Mixed - 400g Can

A thoughtfully crafted cat food that goes beyond mere sustenance to provide a holistic and delightful dining experience for your feline friend. Each can contains a perfect combination of quality protein, essential vitamins, and minerals, all bathed in a luscious gravy or delectable jelly. This specially crafted recipe is developed to help your cat maintain a healthy and balanced lifestyle, delivering 100% of their daily nutritional requirements.

Here's how Whiskas 1+ Years Adult Wet Cat Food from our store contributes to your cat's health:

- Zinc and a Natural Source of Omega-6 Fatty Acid: Supports a healthy skin and coat, ensuring your cat looks and feels their best.

- Promotes Urinary Tract Health: The high-moisture content encourages adequate water intake, promoting urinary tract health for a happy and hydrated cat.

- Enriched with Calcium and Phosphorus: Essential for maintaining strong bones and teeth, this carefully balanced formula supports your cat's overall structural health.

- Quality Source of Protein: Crucial for maintaining an ideal body condition, our cat food is a reliable source of high-quality protein.

We take pride in offering a range of products that prioritise your cat's health, ensuring they lead a happy and vibrant life. Elevate your cat's mealtime with the assurance that comes from choosing Whiskas – where taste meets nutrition, and every bite is a step towards a happy and thriving companion. Because at Northside Produce, we believe a well-fed cat is a well-loved cat.