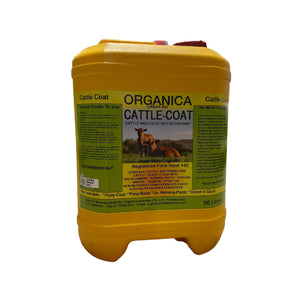 Organica Cattle Coat - 20L

Your go-to solution for addressing odors that attract flies and biting insects to cattle and livestock. This innovative deodorant not only neutralizes undesirable scents but also plays a crucial role in reducing the risk of 3-day sickness. By minimising stress and irritation caused by flies, mosquitoes, and lice bites, Organica Cattle Coat ensures the well-being of your cattle.

Key Features:

- Australian Essential Oils and Botanical Extracts: Harnessing the power of Australian essential oils and botanical extracts, this formula is crafted to deliver effective results while remaining gentle on your livestock.

- Eco-Friendly and Non-Toxic: Prioritising sustainability, Organica Cattle Coat is both eco-friendly and non-toxic, ensuring the health and safety of your cattle and the environment.

- No Withholding Period: With Organica Cattle Coat, there is no withholding period, making it a safe and reliable choice for immediate use without any interruption in your cattle's routine.

- Ideal for Dairy Cattle: Specifically formulated for dairy cattle, Organica Cattle Coat poses no risk of contaminating milk or disrupting the breeding cycle of dung beetles. This makes it an ideal choice for maintaining the integrity of your dairy operation.

- Complementary Use with De-Horning Balm: For comprehensive cattle care, consider using Organica Cattle Coat in conjunction with our De-Horning Balm. This combination aids in the healing process after de-horning, castrating, and marking procedures.

Advance your cattle management practices with Organica Cattle Coat—a reliable, certified, and natural solution that not only keeps odours at bay but also supports the overall health and comfort of your livestock. Trust in the power of Australian essential oils and botanical extracts for an eco-friendly and effective approach to cattle care.