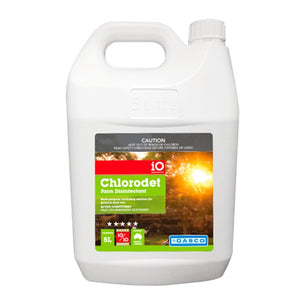 CHLORODET FARM DISINFECTANT - 5L

iO Chlorodet is a multi-purpose farm disinfectant and sanitizing solution for general farm use.

This non-irritant and non-staining formula is effective against bacteria, yeast and fungi.

iO Chlorodet can be used on knives, instruments, cuts and wounds, hands and arms, shearing shed floors and for lamb marking.

A Chlorhexidine sanitiser that is effective against both gram negative and gram positive bacteria, as well as yeasts and fungi. It is non-irritant and non-staining.