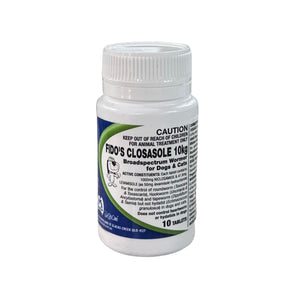 Fido's Closasole Dog & Cat Wormer Tablets - 10 Tablets

Economical and Broad-Spectrum Wormer for Dogs and Cats

Fido's Closasole Wormer Tablets offer a cost-effective solution for comprehensive worm control in both dogs and cats. This powerful formulation targets vital parasites including Roundworm, Hookworm, and Tapeworm, ensuring your pets maintain their appearance, vitality, and performance.

Key Benefits:

- Multi-Worm Control: Effectively tackles a wide range of common worms, including the flea tapeworm Dipylidium caninum, for complete parasite management.
- No Fasting Required: Treatment is hassle-free. No need for fasting prior to administration, making the process stress-free for you and your pet.
- Precise Dosage: One tablet treats 10kg of body weight, providing accurate and efficient dosing tailored to your pet's needs.
- Consistent Protection: Administer every three months to maintain steady and reliable worm control, ensuring your pets thrive.
- Complementary Hydatid Tapeworm Control: Use in conjunction with Praziquantel wormers to address Hydatid Tapeworm concerns, providing an extra layer of safeguarding.

Trust Fido's Closasole Dog & Cat Wormer Tablets for cost-effective and reliable protection against internal parasites. Keep your pets in their best form, ensuring they lead happy, healthy lives.