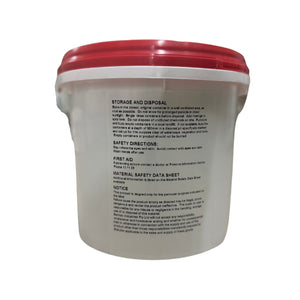 Copper Oxychloride - 2kg

Your Trusted Ally Against Fungal and Bacterial Diseases

Protecting your valuable crops from the devastating effects of fungal and bacterial diseases has never been easier, thanks to Copper Oxychloride. This exceptional agricultural solution is the key to safeguarding fruit and vegetable crops, citrus, stone fruit, pome fruit, and ornamentals against a broad spectrum of harmful pathogens. With its array of features and benefits, Copper Oxychloride is a must-have for any conscientious farmer or gardener.

Key Features and Benefits:

Economical Disease Control: Copper Oxychloride provides a cost-effective means of controlling a wide range of fungal and bacterial diseases that threaten your crops. Say goodbye to the worries of crop damage and embrace a sustainable solution.

pH Neutral and Ultra-Fine Particles: This product is carefully formulated to be pH neutral and boasts an ultra-fine particle size. The majority of these particles are less than or equal to 2-micron diameter, ensuring optimal coverage and effectiveness.

Easy Mixing and Application: Copper Oxychloride is a free-flowing product, making it a breeze to mix and apply. Spend less time wrestling with clumps and complications and more time tending to your crops.

Versatile Compatibility: It can be seamlessly integrated into tank mixes with a wide range of other chemicals and fertilisers. However, please exercise caution when using alkaline products in conjunction with Copper Oxychloride.

Diseases Controlled by Copper Oxychloride:

- Cercospora Leaf Spot in Banana
- Freckle in Stone Fruit
- Cordana Leaf Spot in Banana
- Wildfire
- Smoky Blotch
- Shot hole
- Septoria Leaf Spot
- Scab in Apples
- Rust
- Ring Spot
- Phytophthora Root Rot
- Peppery Leaf Spot
- Melanose
- Leaf Spot
- Leaf Scorch
- Leaf Curl
- Late Blight in Tomato
- Irish Blight/Potato Blight
- Husk Spot
- Fungal Leaf Spot
- Leaf Speckle in Bananas
- Early Blight
- Downy Mildew in Cucurbits
- Crown Rot
- Brown Spot
- Black Spot
- Bacterial spot
- Bacterial Speck
- Bacterial Leaf Spot
- Bacterial Canker
- Bacterial Blight
- Bacterial Black Spot
- Bacterial Gummosis
- Ascochyta Blight in Peas
- Anthracnose Husk Rot
- Anthracnose
- Angular Leaf Spot
- Algal Leaf Spot
- Parasitic Algae

Copper Oxychloride serves as a reliable guardian for a diverse range of crops, including but not limited to:
- Cucurbits
- Walnut
- Tomato
- Tobacco
- Stonefruit
- Spinach
- Silverbeet
- Rhubarb
- Potato
- Plum
- Pear
- Peach
- Pea
- Passion Fruit
- Parsnip
- Olive
- Nectarine
- Mango
- Macadamia
- Lychee
- Lettuce
- Guavas
- Grape
- Fava Bean
- Citrus
- Cherry
- Celery
- Carrot
- Capsicum
- Broad Bean
- Brassica
- Beetroot
- Banana
- Avocado
- Almond
- Apples

When it comes to safeguarding your crops and ensuring a bountiful harvest, Copper Oxychloride is the tried-and-true solution you can rely on. Trust in its effectiveness, compatibility, and ease of use, and watch your agricultural endeavors flourish. Order Copper Oxychloride today and protect your crops with confidence.