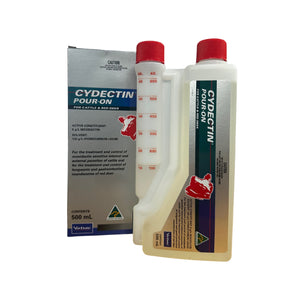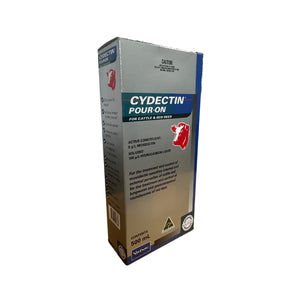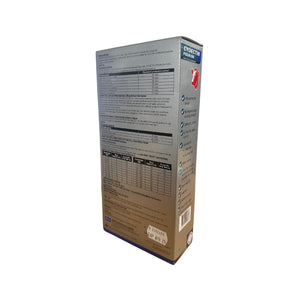 Cydectin Pour-On - 500mL

Unlock the power of trusted parasite control with Cydectin Pour-On for Cattle & Red Deer. This innovative solution is your answer to comprehensive protection against both internal and external parasites, delivering unmatched efficacy in a convenient pour-on formulation.

Key Features:
- Broad Spectrum Control: Cydectin Pour-On is your go-to solution for dealing with a wide range of internal and external parasites that affect cattle and red deer. Say goodbye to worries about roundworms, lungworms, cattle ticks, lice, and mites - Cydectin has you covered.
- Moxidectin Power: Harness the potent and persistent power of moxidectin, a second-generation macrocyclic lactone endectocide. Moxidectin is trusted by farmers and veterinarians for its efficacy in tackling sensitive internal and external parasites.
- Persistent Protection Period: Cydectin Pour-On offers a sustained defense against re-infection by various parasite species. With protection periods ranging from 21 to 42 days, you can trust that your cattle and red deer will remain shielded from harmful parasites.
- Enhanced Productivity: By preventing re-infection, Cydectin Pour-On helps maintain cleaner pastures and healthier animals, ultimately boosting your livestock's productivity.
- Dung Beetle Friendly: Rest easy knowing that Cydectin Pour-On has no known impact on dung beetles. These beneficial insects play a vital role in parasite suppression, nutrient cycling, and soil health, making them a valuable asset to your farming ecosystem.

Recommended for Use Against:
- Roundworms
- Lungworms
- Cattle Ticks
- Lice
- Mites
- Red Deer Lungworms
- Red Deer Roundworms

Why Choose Cydectin Pour-On for Cattle & Red Deer?

- Proven Moxidectin: Cydectin Pour-On contains moxidectin, a trusted and potent "mectin" compound, ensuring reliable parasite control.
- Comprehensive Protection: This product effectively targets all major parasites susceptible to an ML drench, guaranteeing the well-being of your livestock.
- Persistent Activity: Maintain cleaner pastures and reduce re-infection risks with Cydectin Pour-On's extended protection periods.
- Support for Dung Beetles: Promote a healthy farming ecosystem by using a product that doesn't harm dung beetles, valuable for biological pest control and soil fertilization.

Choose Cydectin Pour-On 500mL for a powerful, persistent, and reliable solution to safeguard your cattle and red deer from harmful parasites. Enhance your livestock's health and productivity while maintaining the delicate balance of your farming ecosystem. Cydectin is your trusted partner in parasite control. Order now for peace of mind and healthier livestock.