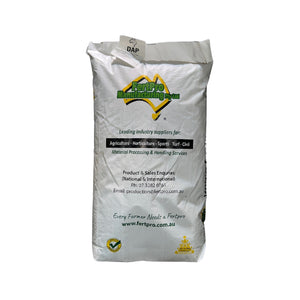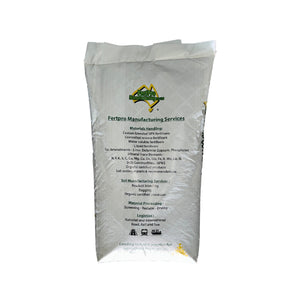 Fertpro - DAP Fertiliser - 25kg

Elevate your soil health and enhance crop yields with our premium DAP Fertiliser. Formulated with precision, this fertiliser is designed to be best applied through broadcast, Direct Drill Horticultural Spinner Spreaders, and small walk-behind Applicators, ensuring efficient and targeted nutrient delivery for your agricultural needs.

- Soil Rejuvenation: DAP Fertiliser plays a pivotal role in rejuvenating tired and worn soils through remineralisation. It infuses essential nutrients, revitalizing the soil for optimal plant growth.

- Trace Element Enrichment: This fertiliser is specifically engineered to build critical levels of many trace elements, providing a comprehensive nutrient profile that is vital for the health and productivity of your crops.

- Increased Soil Carbon Levels: DAP Fertiliser contributes to increased soil carbon levels, enhancing energy, water, and nutrient holding capacity. This leads to improved soil structure and overall resilience.

- Enhanced Pest and Disease Resistance: By fortifying the soil and plants with essential nutrients, DAP Fertiliser boosts the ability of plants and turf to resist pest and disease attacks, promoting a healthier and more robust crop.

- Biological Activity Boost: Experience greater biological activity in the soil, fostering the availability of both target and other tied-up nutrients. This increased activity ensures that your crops receive a continuous and balanced nutrient supply.

Typical Analysis:
- Nitrogen: 18%
- Phosphorus: 20%
- Sulphur: 1.6%

Choose DAP Fertiliser for a comprehensive and efficient solution to meet the nutritional demands of your crops. Whether you are rejuvenating tired soils, enriching trace elements, or enhancing pest resistance, our DAP Fertiliser is your trusted partner in cultivating a thriving and productive agricultural landscape. Elevate your farming practices and yield exceptional results with the power of precision nutrient application.