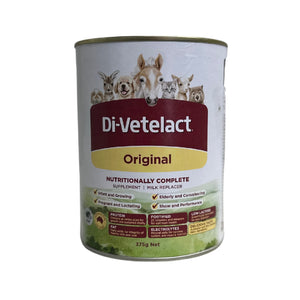 Di-Vetelact Original - 375g

A scientifically formulated and nutritionally complete Milk Replacer designed for all mammals and marsupial neonates. As a comprehensive Multi Vitamin Nutritional Supplement suitable for animals through all life stages, Di-Vetelact is your trusted partner in providing superior Milk Replacer & Nutritional Support.

Key Features:

- Scientifically Formulated Nutrition: Di-Vetelact Original is a carefully crafted formula that serves as both a Milk Replacer and a Multi Vitamin Nutritional Supplement. It contains 25 essential vitamins and minerals, along with 18 crucial amino acids, all thoughtfully balanced in a perfect fat-to-carbohydrate energy ratio. This formula provides optimal nutrition critical for the healthy development and well-being of animals.

- Australian and New Zealand Dairy: Crafted from premium dairy sourced from Australia and New Zealand, Di-Vetelact ensures the highest quality ingredients. This commitment to excellence begins with the sourcing of materials and ingredients, guaranteeing that your animals receive only the best nutritional support.

- Low Lactose for Enhanced Bioavailability: Di-Vetelact Original is low lactose, enhancing the bioavailability, absorption, and utilisation of nutrients. This feature ensures that your animals receive the maximum benefit from each feeding, promoting their overall health and vitality.

- Versatile Nutritional Support: Suitable for various life stages, Di-Vetelact is a Nutritionally Complete Milk Replacer for orphan or early weaned animals. It also serves as a Comprehensive Nutritional Supplement for pre-natal, pregnant, and lactating animals, growing and developing animals, aging and elderly animals, convalescing or recuperating animals, as well as work or show animals.

- Daily Goodness with Ease: Di-Vetelact empowers animal owners to feed with confidence and ease. This functional product provides essential vitamins and minerals, amino acids, and fatty acids crucial for health and well-being. The balanced fat-to-carbohydrate energy ratio facilitates easy regulation of feeding schedules, ensuring optimal nutrition for your animals.

- Quality Assurance: Di-Vetelact is the only Milk Replacer certified to Australian Standard AS5812 for the Manufacturing and Marketing of Pet Food. As a certified member of PFIAA (Pet Food Industry Association of Australia), Di-Vetelact upholds excellence in pet food nutrition and industry standards. Certification ensures the gold standard delivery of this product, from sourcing to processing, packing, and labeling, assuring safety for your animals.

Pride in the Product: Di-Vetelact is made with premium, natural, food-grade ingredients sourced locally. This commitment to quality extends to selecting the highest quality, most effective, and bioavailable forms of every ingredient. All vitamins, minerals, amino acids, and fatty acids are prepared in the correct ratios and quantities to ensure the best health for all animals.

Choose Di-Vetelact Original for a superior Milk Replacer & Nutritional Support that transcends life stages, from birth to senior years, ensuring the health and well-being of your cherished animals. Feed with confidence, feed with Di-Vetelact.