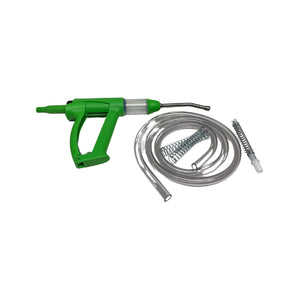 The Defender - Oral Drench - 20mL

We understand the importance of precise and efficient livestock care, especially when it comes to sheep. Introducing the Defender Drencher – 20mL, a reliable and versatile tool designed to meet the unique needs of sheep treatments. Whether you're a seasoned farmer or a novice, this applicator is your trusted partner for drenching.

Key Features:
- Effortless Dosage Control: The Defender features a convenient Dose Selector at the top, allowing you to easily adjust the dosage by rotating the numbered dosage rate. Say goodbye to complicated adjustments – it's quick and straightforward.
- Universal Compatibility: This applicator is suitable for all sheep drench products, ensuring that you have a versatile tool that meets your various livestock care requirements.
- Easy Maintenance: We know that hygiene is essential. That's why this applicator is designed to be easily dismantled for cleaning and re-lubrication, ensuring it's always in top condition.
- Precision Dosage: The Dose Selector allows you to choose dosages ranging from 5 to 20ml, with convenient 1ml increments. This precision ensures that your sheep receive the exact treatment they need.

Elevate your sheep care with The Defender Drencher. Discover the convenience, precision, and reliability you need for your drenching needs.