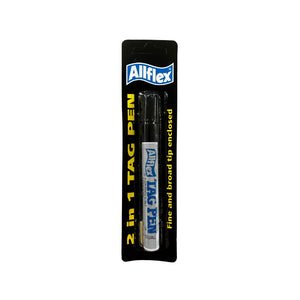 Allflex Tag Pen - 2 in 1 - The Ultimate Livestock Tag Marker

Why Choose Allflex Tag Pen:

- Clear Marking: Achieve visible, lasting marks on livestock tags.
- Smart Numbering: Organize livestock with a simple numbering system.
- Efficient Ink Flow: Easy-to-start ink flow for precise marking.
- Long-Lasting: Ensure lasting identification on your tags.
- Safe and Ample: Child-safe and contains 12mL of ink.
- Easy Cleanup: Ink can be removed with ethanol.

Simplify your livestock management and ensure efficient identification with the Allflex Tag Pen.

Make your mark with confidence!