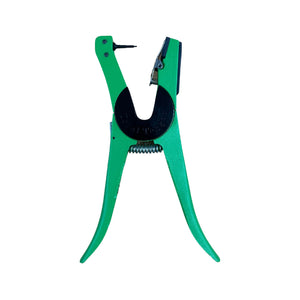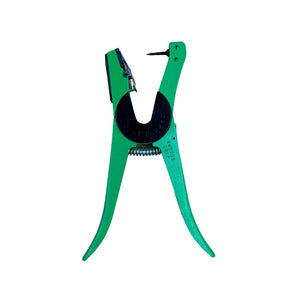 Allflex Identiplier Applicator: Precision Tag Application Made Effortless!

Your Trusted Tag Application Partner. When it comes to tagging your livestock, precision and ease of use are essential. The Allflex Identiplier Applicator is your go-to tool for applying a variety of Allflex tags, designed to make the tagging process smooth, efficient, and animal-friendly.

Key Features:
- Innovative 'Flip-Pin' Head: The Identiplier Applicator features a unique 'flip-pin' head design. This innovation allows the pin to swivel out if an animal pulls its head away during application. This minimizes the risk of tearing the ear or losing control of the applicator, ensuring a safer and more humane tagging process.
- Versatile Tag Compatibility: This applicator is a true all-rounder, suitable for a wide range of tagging purposes. It's designed for use with all two-piece visual tags, electronic cattle tags, and two-piece electronic sheep and goat tags. Whether you're tagging cattle, sheep, or goats, the Identiplier has you covered.
- Durability First: Crafted from specialised materials, the Identiplier Applicator is built to withstand the rigors of farm life. Its robust construction ensures it will serve you well season after season.
- Ergonomic Grip: We understand the importance of user comfort during repetitive tasks. The Identiplier features a thoughtfully designed grip that minimises hand fatigue, making it ideal for extended use.
- Deep Jaw Design: The deep jaw of this applicator simplifies tag placement, ensuring accurate and secure attachment every time.
- Quick and Easy Application: Tagging should be a breeze, and with the Identiplier, it is. Enjoy quick and straightforward tag application, saving you time and effort.
- Multi-Purpose Applicator: This applicator serves several purposes, reducing equipment costs. It adapts to both visual and electronic sheep tags, and with a simple 180° rotation, it accommodates electronic cattle tags.
- Spare Parts Included: Your convenience is our priority. The Identiplier comes with a replacement applicator pin located in the handle, ensuring you're always prepared for any situation.
- Application Made Easy: The Identiplier's insert allows for multi-purpose use. Insert facing in for visual and electronic sheep tags, or rotate the insert 180° for electronic cattle tags. For detailed application instructions, including tag positioning, refer to the instruction brochure on the applicator's webpage or contact us directly.

Elevate your tagging process with the Allflex Identiplier Applicator. Trust in its precision, durability, and ease of use. Ensure the well-being of your livestock while simplifying your tagging tasks.

Order the Identiplier Applicator today and experience the difference for yourself.