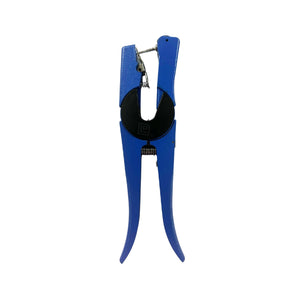 Applicator Standard Deluxe: Your Trustworthy Tool for Precise Tag Application

Tagging your livestock is a vital part of animal management, and you need a tool that's up to the task. The Applicator Standard Deluxe is here to provide you with a dependable, all-weather solution for precise tag application.

Key Features:
- Unparalleled Durability: Crafted from solid diecast material and featuring a hardened steel insertion pin, the Applicator Standard Deluxe is engineered to withstand the rigors of the job. Its construction is your assurance against breakage or bending, ensuring a long-lasting tool that stands up to tough tasks.
- All-Weather Performance: No matter what Mother Nature throws your way, this applicator remains steadfast. Designed to tackle all weather conditions, it's your go-to tool, rain or shine, ensuring your tagging process is consistently reliable.
- Precise and Efficient Tag Application: With the Applicator Standard Deluxe in hand, applying tags becomes a breeze. The design is precision-engineered to ensure tags are securely attached with minimal effort, reducing stress on both operator and animal.
- Versatile and Effective: Whether you're working with cattle, sheep, or other livestock, this applicator handles the job. It's compatible with a variety of tags, making it a versatile tool for your animal management needs.
- A Long-Term Investment: The combination of solid diecast material and hardened steel means this applicator is built to last. It's a wise investment in your livestock management toolkit, designed to serve you well through countless tagging operations.

Invest in the Applicator Standard Deluxe today and experience the difference in tag application ease and longevity. Order now to ensure the efficiency and effectiveness of your livestock tagging process, regardless of the weather conditions.