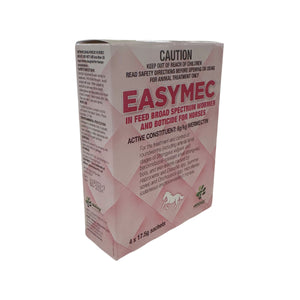 EASYMEC - In Feed Broad Spectrum Wormer and Boticide for Horses - 70g

EASYMEC is your go-to choice for safeguarding your horses against a range of parasitic threats. This exceptional equine healthcare product is specifically designed to treat and control various common parasites, ensuring your horses stay happy and healthy.

Targeted Parasite Control

EASYMEC boasts a comprehensive range of benefits, providing an effective solution for the following conditions:

1. Roundworms: EASYMEC offers protection against roundworms, including arterial larval stages of Strongylus vulgaris and benzimidazole-resistant small strongyles. By targeting these parasites, you're not only ensuring the health of your horses but also taking a vital step in preventing potential health complications.

2. Bots: Bots are a common nuisance for horses, and EASYMEC is specially formulated to address this issue. By using this product, you can prevent bots from infesting your horses and causing discomfort.

3. Skin Lesions (Habronema and Draschia spp. - Summer Sores): EASYMEC provides relief from skin lesions caused by Habronema and Draschia spp., commonly known as "summer sores." These painful skin conditions can be distressing for your horses, but with EASYMEC, you can help alleviate their suffering.

4. Onchocerca spp. Microfilariae (Cutaneous Onchocerciasis): EASYMEC is also effective in controlling Onchocerca spp. microfilariae, which can lead to cutaneous onchocerciasis. By using this product, you're taking a proactive step in preserving your horses' skin health.

Key Ingredient: IVERMECTIN

At the heart of EASYMEC's potency is its active constituent, Ivermectin, at a concentration of 6 g/kg. This critical ingredient is renowned for its efficacy in combatting a broad spectrum of equine parasites. With EASYMEC's high-quality ivermectin formulation, you can trust that your horses are receiving the best possible care.

Easy Administration

EASYMEC is designed with horse owners in mind. Its easy-to-administer form makes the treatment process hassle-free, ensuring that both you and your horses have a stress-free experience.

EASYMEC is the answer to your equine health concerns. It's a reliable, broad-spectrum wormer and boticide that will help protect your horses from parasites, keeping them in the best possible health. Trust in EASYMEC to provide the care and protection your horses deserve.