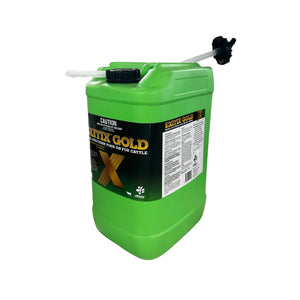 Exitix Gold - 20L

Your Comprehensive Solution for Cattle Parasite and Tick Protection!

Exitix Gold is your go-to product for treating and controlling a wide range of internal and external parasites that can affect beef cattle. It's not just about dealing with a variety of pests; Exitix Gold also provides excellent protection against ticks, including those that have shown resistance to other treatments like organophosphates, synthetic pyrethroids, and amidines.

Key Benefits:
- Comprehensive Parasite Control: Exitix Gold covers a broad spectrum of internal and external parasites to ensure the overall health of your cattle.
- Tick Development Inhibition: It doesn't just control ticks; it also hinders their development, reducing their population over time.
- Effective Tick Management: By minimizing tick infestations, Exitix Gold promotes cattle comfort and health.
- Persistent Buffalo Fly Protection: Your cattle will enjoy ongoing protection against buffalo flies, which can be a source of irritation and discomfort.

Exitix Gold is your dependable choice for safeguarding your cattle from parasites and ticks. It offers a straightforward and effective solution for the health and well-being of your livestock. Trusted by cattle owners, Exitix Gold sets the standard for comprehensive parasite and tick protection.

Active Ingredients:
- 5g/L Ivermectin
- 15g/L Fluazuron
Click here for more information.