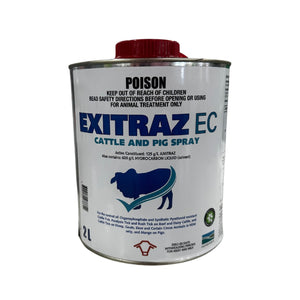 Exitraz EC - Cattle & Pig Spray - 2 Litres

Your Ultimate Solution for Cattle and Pig Tick Control

Exitraz EC is a powerful liquid concentrate designed to tackle even the toughest tick challenges in cattle and pigs. When mixed and applied, it acts as a spray-on treatment that effectively combats various tick species, including organophosphate and synthetic pyrethroid-resistant cattle ticks (Boophilus microplus), Paralysis Ticks (Ixodes holocyclus), and Bush Ticks (Haemaphysalis longicornis).

Key Features:

Unmatched Versatility: Exitraz EC is a comprehensive solution for tick control, providing effective treatment for a wide range of tick species, even those that have developed resistance to traditional treatments.

Zero Meat and Milk Withholding: This feature provides incredible flexibility, allowing you to clear cattle of ticks before sale without any delays or concerns about meat and milk quality.

Quick Results: After treatment, cattle and pigs become tick-free within just 3-4 days. Moreover, Exitraz EC continues to protect against larval ticks for up to 7 days post-treatment.

Potent Active Ingredient: The active constituent in Exitraz EC is 125 g/L Amitraz, known for its efficacy in controlling ticks and ensuring the well-being of your livestock.

Application:

Exitraz EC is easy to apply as a coarse spray with a pump, making the process efficient and hassle-free.

Say goodbye to tick-related worries and ensure the health of your cattle and pigs with Exitraz EC. This powerful liquid concentrate is your ticket to a tick-free environment, providing quick results and peace of mind. Get ready for a healthier and happier herd or flock with Exitraz EC!