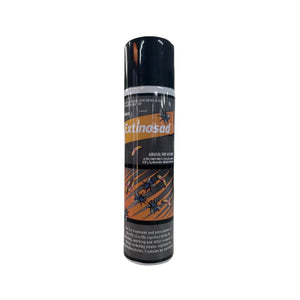 Extinosad Aerosol for Wounds - 370g

Extinosad Aerosol presents a hassle-free solution for the treatment and prevention of blowfly strike in mulesing, marking, and various other wounds of sheep, even those with OP-resistant strains.

This easy-to-use aerosol formulation provides effective treatment for up to 20 average-sized wounds, making it an indispensable tool for sheep management.

Key Product Benefits:

Convenient Treatment for Active Blowfly Strike: Extinosad Aerosol is specially designed for swift action against active blowfly strikes, offering rapid relief for affected animals.

Ready to Use: This product comes pre-packaged and ready for immediate application, eliminating the need for additional preparations or mixing.

Nil Withholding Periods for Meat and Wool: With Extinosad Aerosol, you can treat your sheep confidently, knowing there are no waiting periods for the harvest of meat or wool.

Application:
Simply apply using the provided aerosol can for precise and effective wound treatment.

Ensure the well-being of your sheep with Extinosad Aerosol - a trusted solution for prompt and efficient wound care. Keep your flock happy, healthy, and free from blowfly strike.