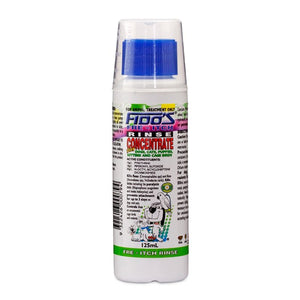 FIDO'S "FRE-ITCH" RINSE CONCENTRATE - 125ML

Fido's Free Itch Rinse Concentrate kills fleas and lice. Kills ticks (including paralysis tick) and prevents attachment for up to three days on dogs and cats. Controls lice on ornamental cage birds and rodents.

Dilute before use - make up freshly before use.

For Dogs, Cats, Puppies, Kittens and Rodents: Mix 8ml (one screw-capful) of concentrate with 800ml warm water (40ml to 4 litres) and hydrobath, dip, swab, sponge or spray pet with this solution until thoroughly soaked.

Avoid contact with pets eyes. Allow animal to dry naturally.

Puppies and kittens should be towel dried to prevent chilling.

For best results do not rinse off. Repeat as necessary for control of infestation.

The suggested treatment for continuous paralysis tick control is to rinse the animal according to label directions once every three days. In tick season daily searching for and removal of any ticks found is recommended.