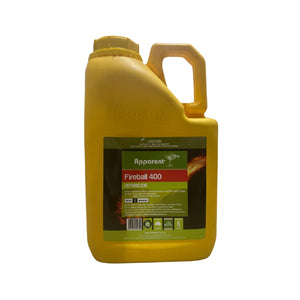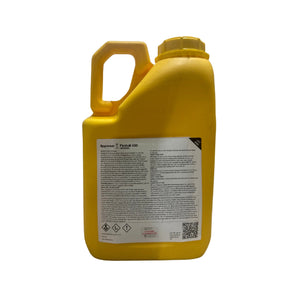 Fireball 400 Herbicide - 5L

When it comes to wrangling a diverse range of broadleaf weeds in various crops, Fireball 400 Herbicide emerges as your trusted ally. With its active constituent of 400g/L Fluroxypyr, Fireball 400 Herbicide is the ultimate choice for effective weed control in fallow lands, lucerne fields, maize and millet crops, pastures, poppies, sorghum, sugar cane, sweet corn, and winter cereals. Furthermore, it's your go-to solution for tackling stubborn woody weeds in agricultural non-crop areas, commercial and industrial zones, forests, pastures, and rights-of-way.


Broadleaf Weeds Control:
Fireball 400 Herbicide is tailor-made for battling an extensive array of broadleaf weeds.
- Fallow: Prepare your land for the next planting season by eliminating unwanted broadleaf weeds that threaten your future crop's success.
- Lucerne: Maintain the purity and productivity of your lucerne fields by eradicating troublesome broadleaf weeds that can choke your valuable forage.
- Maize and Millets: Ensure your maize and millet crops thrive without the competition from invasive broadleaf weeds.
- Pastures: Promote lush and healthy pastures by controlling a wide range of broadleaf weeds that can undermine your livestock's nutrition.
- Poppies: Protect your poppy fields from encroaching broadleaf weeds to maintain the quality and yield of this vital crop.
- Sorghum and Sugar Cane: Safeguard your sorghum and sugar cane plantations by suppressing broadleaf weeds that can limit growth and yield.
- Sweet Corn: Cultivate high-quality sweet corn by eliminating broadleaf weed competition in your fields.
- Winter Cereals: Ensure the success of your winter cereal crops by managing broadleaf weed infestations that threaten their growth.

Woody Weeds Control:
In addition to broadleaf weeds, Fireball 400 Herbicide is a versatile solution for managing woody weeds in a variety of settings.
- Agricultural Non-Crop Areas: Keep woody weeds at bay, preserving the integrity of areas adjacent to your crops.
- Commercial and Industrial Areas: Maintain the tidiness and safety of commercial and industrial premises by eradicating unwanted woody invaders.
- Forests: Protect your forests from the encroachment of troublesome woody weeds that can threaten the ecosystem's balance.
- Pastures: Ensure your pastures remain productive and free from woody weed competition.
- Rights-of-Way: Keep rights-of-way clear and safe by eliminating unwanted woody growth.

With Fireball 400 Herbicide and its active constituent of 400g/L Fluroxypyr, you have the power to take control of weed management across various Australian landscapes. Say goodbye to unwanted vegetation, whether it's broadleaf weeds or tenacious woody invaders, and embrace the results you've been striving for.
Click here for more information.