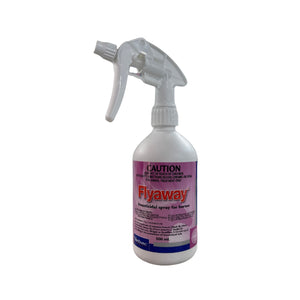 Flyaway - 500mL

Keep your horses comfortable and insect-free with Flyaway, a specially formulated solution designed to provide lasting insecticidal protection and repellency. Ideal for use in stables, floats, and various horse environments, Flyaway offers a range of features and benefits:

Key Features & Benefits:

- Swift Action: Achieve rapid knockdown and repellency against a variety of troublesome insects including bush flies, house flies, stable flies, midges, and sandflies.
- Long-Lasting Protection: Flyaway's sustained effect means fewer applications are needed, making it a more economical choice for insect control.
- Versatile Application: Safe for use directly on the animal and can also be sprayed around stable areas, inside floats or trucks, and on rugs and equipment.

Say goodbye to bothersome insects and give your horses the comfort they deserve. Trust Flyaway for effective, long-lasting insect control on horses and multiple surfaces. Enjoy a pest-free equine environment today!