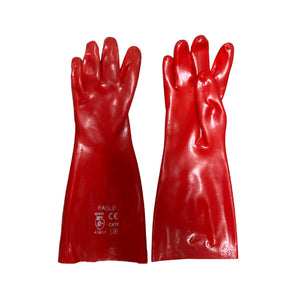 Long PVC Gloves - 45cm

Measuring an impressive 45cm in length, these gloves provide extended coverage, safeguarding your hands and forearms against a variety of workplace hazards. Whether you're working with oils, greases, or chemicals, these gloves are engineered to resist them all, offering a reliable barrier against potentially harmful substances.

The PVC material used in these gloves is not only robust but also flexible, allowing for ease of movement and dexterity while maintaining a secure fit. The single-dipped construction enhances the gloves' resistance to oil, grease, and chemicals, ensuring that your hands remain protected even in the most challenging conditions.

To enhance comfort and increase longevity, these gloves are interlock lined. The interlock lining adds an extra layer of durability while providing a comfortable feel against your skin. This feature is especially beneficial during prolonged use, as it minimises discomfort and fatigue.

Whether you're working in an industrial setting, handling chemicals, or dealing with oily machinery, our 45cm Long PVC Gloves are designed to meet the demands of your job. Invest in quality hand protection that not only prioritises your safety but also offers the durability needed for long-lasting performance.

Upgrade your work gear today with these reliable, resistant, and interlock-lined PVC gloves.