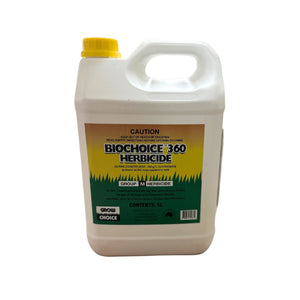 Biochoice 360 Herbicide - 5L

Are invasive weeds taking over your beautiful garden or landscape? Say goodbye to the relentless battle against unwanted vegetation with Biochoice 360 Herbicide. This powerful herbicide, featuring an active constituent of 360g/L Glyphosate (present as the isopropylamine salt), is your trusted partner in reclaiming your outdoor spaces from a wide spectrum of annual and perennial weeds.

Key Features:

360g/L Glyphosate Concentration: Biochoice 360 Herbicide packs a punch with its high concentration of Glyphosate, making it an effective solution for controlling even the most stubborn weeds. Glyphosate is renowned for its broad-spectrum herbicidal properties, ensuring thorough weed elimination.

Non-Residual Formula: This herbicide is designed to target unwanted vegetation without leaving harmful residues behind. This non-residual characteristic means you can replant or reseed your treated area after the recommended waiting period, ensuring the health and vitality of your desired plants.

Easy Application: This herbicide is easy to use, making it suitable for both amateur and professional gardeners. Simply follow the provided instructions for mixing and application, and watch as Biochoice 360 Herbicide efficiently targets and eliminates unwanted weeds.

Fast Action: One of the standout features of Biochoice 360 Herbicide is its rapid weed-killing action. You'll notice visible results in no time, as this herbicide effectively disrupts weed growth and prevents regrowth.

Say goodbye to the relentless battle against invasive weeds and take control of your outdoor spaces with Biochoice 360 Herbicide. With its high concentration of Glyphosate, non-residual formula, and versatility in weed control, this herbicide is your ultimate solution for achieving a beautifully manicured garden or landscape. Bring back the natural beauty of your outdoor environment with Biochoice 360 Herbicide today!