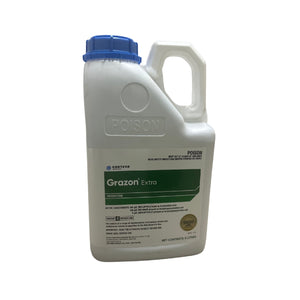 Grazon Extra Herbicide - 5L
A powerhouse solution tailored for brushweed control and the management of challenging broadleaf weeds. Specifically designed for fallow situations in northern Australia, Grazon Extra sets the standard in southern regions for volunteer lucerne removal ahead of cereal cropping. With a potent combination of active constituents, including 300 g/L triclopyr, 100 g/L picloram, and 8 g/L aminopyralid, this herbicide is your go-to for effective, long-lasting weed control.
Key Features:
Triple-Action Formula: Grazon Extra Herbicide employs a robust combination of 300 g/L triclopyr, 100 g/L picloram, and 8 g/L aminopyralid, targeting both foliage and roots. This dual approach ensures a rapid brownout of leaves, dry down of stems, and destruction of the root mass, preventing regrowth and delivering comprehensive control.
Residual Activity: The active ingredients in Grazon Extra linger in the soil, exhibiting residual activity that prevents seeds of target woody plants and secondary weeds from germinating for an extended period. In some cases, this residual effect lasts up to two years, providing long-lasting protection against weed reinfestation.
Selective Control: Grazon Extra Herbicide excels in selectively controlling target weeds without causing harm to pasture grasses. This selectivity is a key feature, preserving the integrity of pastureland while effectively managing undesirable vegetation.
Versatile Application: Primarily intended for brushweed control in northern Australia and volunteer lucerne removal in southern regions, Grazon Extra Herbicide adapts to diverse environments. Its versatility makes it a valuable asset for both agricultural professionals and landowners seeking effective weed management solutions.
Emulsifiable Concentrate Liquid: Grazon Extra Herbicide is formulated as an emulsifiable concentrate liquid, ensuring ease of application and efficient absorption. This liquid form facilitates practical use in the field, making the herbicide a convenient and reliable choice for large-scale applications.
Elevate your weed control strategy with the proven effectiveness of Grazon Extra Herbicide. Whether you're tackling brushweed in the north or preparing for cereal cropping in the south, this herbicide delivers unparalleled performance with a focus on both immediate and long-term results.
Click
here
to view the product's guidelines and precise application instructions tailored to your specific needs.