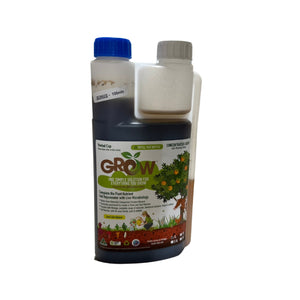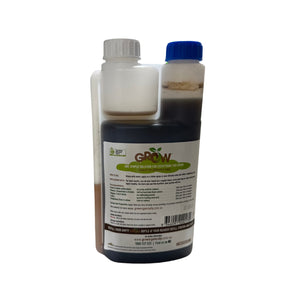 Grow - Bio Organic Liquid Fertiliser - 1L

Your certified bio-organically sustainable alternative to chemical fertilisers. Cultivate vibrant, thriving plants while nurturing the long-term health of your soil with this revolutionary liquid fertiliser. With a perfect blend of essential nutrients, beneficial bacteria, and microbes, Grow is your key to sustained soil health and bountiful harvests.

Key Features:

Microbial Balancing Technology: Grow harnesses the power of Microbial Balancing Technology, providing your plants and soil with a complete range of beneficial bacteria. This ensures optimal results, promoting a harmonious balance for both plant and soil ecosystems.

Concentrated and Cost-Effective: A little goes a long way with Grow. Concentrated and cost-effective, this liquid fertiliser simplifies your gardening routine, offering a budget-friendly solution without compromising on quality.

Increased Yield and Extended Production Period: Unlock the full potential of your crops with Grow. Enjoy increased yields and an extended production period, providing you with a more fruitful and sustained harvest.

Rapid Microbial Activity: Boost the health of your soil with Grow's ability to rapidly increase microbial activity. A thriving microbial community contributes to the overall well-being of your soil, creating an environment where plants can flourish.

pH Neutral for Immediate Plant Acceptance: With a pH-neutral formulation, Grow ensures immediate plant acceptance, allowing your plants to absorb the essential nutrients without delay.

Carbon Source Acceleration: Grow accelerates the breakdown of dry matter, creating a valuable carbon source for your soil. This contributes to soil fertility and enhances its overall structure.

Healthy Deep Root System: Promote a robust and healthy root system with Grow. The formula encourages deep root growth, establishing a solid foundation for your plants.

Natural Resistance: Enhance your plants' natural resistance to pests, diseases, and climatic variations. Grow acts as a shield, fortifying your garden against potential threats.

Improved Flavor and Nutritional Value: Elevate the taste and nutritional value of your produce with Grow. Experience the richness and quality that comes from nourishing your plants with organic, bio-friendly ingredients.

Year-Round Use for Premium Results: For optimal outcomes, use Grow all year round. This ensures a consistent, nurturing environment for your plants, resulting in premium, healthy growth.

Choose Grow - Bio Organic Liquid Fertiliser for a sustainable, eco-friendly approach to gardening. Nurture your garden, enhance your harvests, and contribute to a healthier, more vibrant ecosystem.