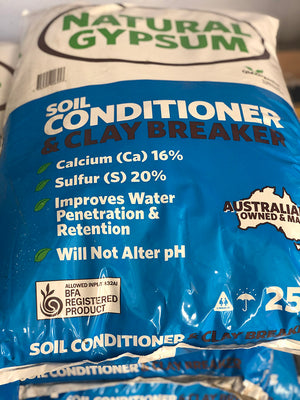 NATURAL GYPSUM - 25KG

Gypsum improves acid soils and treats aluminium toxicity, improves soil structure, helps reduce runoff and erosion and is a source of calcium and sulphur for plant nutrition.

Known as a soil conditioner & clay breaker, perfect for garden beds.

Active Constituent: Purity of around 85% gypsum. We ensure that it contains a minimum 15% Sulphur and 19% Calcium.

Features & Benefits:
- Mined in Australia.
- Low in Moisture.
- Quality grade gypsum with chicken manure to create a unique, easy to spread, natural product which provides organic matter, nutrients and gypsum.

The application of this product saves you money in your pocket and you can be confident that you're getting the highest quality product possible for your annual pastures, summer pastures, cropping horticulture and home garden.