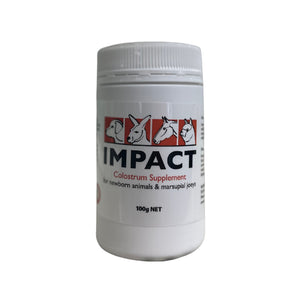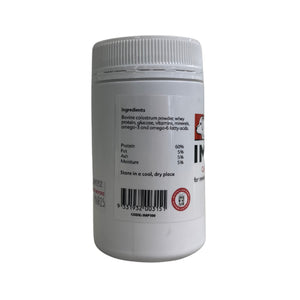 Impact Colostrum Supplement - 100g

Specially formulated for the optimal health and immune support of newborn animals and marsupial joeys. Packed with essential nutrients, this supplement is designed to provide crucial support during the early stages of life.

Key Features:

- Colostrum Powerhouse: At the heart of this Colostrum Supplement is a rich source of colostrum powder. Colostrum is nature's immune-boosting gift, containing vital immunoglobulins that play a key role in supporting the immune function of newborn mammals and marsupial joeys. This supplement is a reliable source of the essential nutrients found in colostrum, providing a strong foundation for the health and vitality of young animals.

- Enhanced Antibacterial Activity: In addition to colostrum, this supplement includes lactoferrin and lactoperoxidase. These components are known for their potential antibacterial activity, offering an extra layer of protection for the developing immune systems of newborns. This added support helps create a healthier environment for optimal growth and well-being.

- Intestinal Protection: Lactoferrin, along with lactoperoxidase, not only contributes to antibacterial activity but also provides intestinal protection. This dual-action mechanism helps maintain a balanced and healthy digestive system, crucial for the overall health of newborns as they navigate their early stages of life.

- Prebiotic Power with MOS: The Impact Colostrum Supplement is fortified with mannan oligosaccharides (MOS), a prebiotic known for its ability to assist in the growth of beneficial gut flora. This prebiotic support promotes a thriving digestive environment, fostering the development of a healthy gut microbiome essential for the well-being of young animals.

Give your newborn animals and marsupial joeys the best start in life with the Impact Colostrum Supplement. With a carefully crafted blend of colostrum, lactoferrin, lactoperoxidase, and MOS, this supplement is a comprehensive solution for immune support, antibacterial defense, and intestinal health. Ensure the health and vitality of your young ones with this scientifically formulated supplement, a trusted choice for nurturing the future of your precious animals.