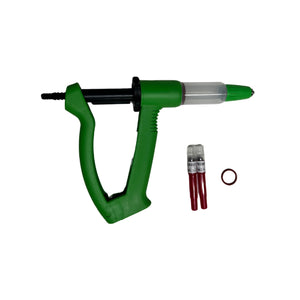 The Optimiser Injector/Vaccinator - 12.5mL

We understand that the health and well-being of your livestock is of utmost importance. That's why we proudly introduce the Optimiser Injector, a groundbreaking solution designed to make injections and vaccinations more precise, efficient, and safe. Whether you're tending to Pigs, Cattle, Sheep, or Poultry, this versatile applicator is your ideal choice for a wide range of vaccines and harsh injectables.

Key Features:
- Extra Strength Needle Nib: Reinforced the common stress point in injectors/vaccinators with a stainless steel needle nib, ensuring durability and longevity.
- Wide Compatibility: The Optimiser is designed to accommodate both 4.6mm and 6.4mm delivery hoses, making it suitable for a variety of products available on the market.
- Enhanced Control: The slim barrel of this applicator provides a better feel, especially at low dose rates, giving you the precision you need.
- Effortless Product Expelling: Our modern inlet/outlet valve design simplifies the process of expelling product, ensuring a smooth and efficient operation.
- Safety First: A needle release grip increases safety during attachment and removal of Luer Needles. This not only reduces the risk of needle stick injuries but also promotes regular needle changes without breaking needle nibs.
- Versatile Application: Whether you're administering vaccines or harsh injectables like Vitamin B12, ADE, or long-acting Mectins, The Optimiser is up to the task.
- Precise Dosage Control: The Dose Selector at the top of the applicator allows you to make quick and easy changes to the dosage, with a range from 1 ml to 12 ml in 0.5 ml increments. Precision is at your fingertips.
- Needle-Friendly Design: The needle cap does not need to be removed when fitting needles with the Optimiser Injector. Attaching and removing needles is a breeze, providing a hassle-free experience.
- Spare O-ring Provided: We've got you covered with a spare O-ring for your convenience.

We're committed to enhancing the well-being of your livestock, and the Optimiser Injector/Vaccinator is a testament to that commitment.

Upgrade your injection and vaccination process with this innovative solution. Order now to experience the difference in precision, efficiency, and safety for your livestock care needs.