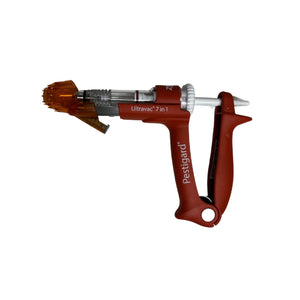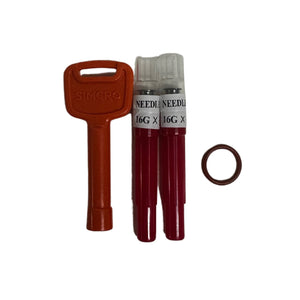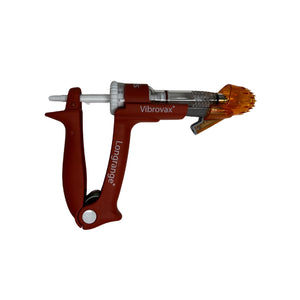 Safeshot Vaccinator - 2mL, 2.5mL, 5mL

SafeShot Vaccinator from Zoetis: Your Trusted Companion for Precision Livestock Injections

Elevate your cattle vaccination game with the innovative SafeShot Vaccinator by Zoetis. Designed for reliability, precision, and utmost safety, this remarkable device empowers you to administer subcutaneous injections effortlessly, all with a single hand. Whether you're a seasoned farmer or just starting out, the SafeShot Vaccinator is your go-to tool for consistent and accurate dosing in 2mL, 2.5mL, or 5mL increments.

Precision at Your Fingertips:
With its patented two-stage mechanism, the SafeShot Vaccinator ensures a level of accuracy that's second to none. The design focuses on achieving reliable penetration and consistent dose placement, whether it's a deep subcutaneous injection or an intramuscular shot. Say goodbye to guesswork and hello to precision.

Tailored to Your Needs:
Flexibility is the name of the game with the SafeShot Vaccinator. Its adjustable settings let you choose from 2mL, 2.5mL, or 5mL doses, ensuring that you have the control to meet your cattle's unique healthcare requirements. No matter the size or breed, this versatile tool has you covered.

Why Choose the SafeShot Vaccinator?
- Unmatched Precision: Say goodbye to over- or under-dosing. The SafeShot Vaccinator guarantees accurate dosing every time.
- Ergonomic Design: The single-handed operation makes administering injections a breeze, reducing strain and fatigue.
- Built for Safety: The name says it all. Safety is top priority, and the SafeShot Vaccinator excels in keeping both livestock and handlers secure.
- Versatile Dosing: Tailor your injections to your cattle's specific needs with the choice of 2mL, 2.5mL, or 5mL doses.
- Zoetis Quality: Trust in the Zoetis legacy of excellence in animal health solutions.

What vaccines is the Safeshot Vaccinator suitable for?
All cattle safe Zoetis Vaccines used at 2mL, 2.5mL and 5mL Doses including;
- Ultravac 7 in 1
- Ultravac 5 in 1
- Ultravac Botulinum
- Vibrovax
- Pestiguard
- Longrange
- Leptoshield

Upgrade your cattle vaccination process today with the SafeShot Vaccinator from Zoetis. Whether you're a seasoned professional or a newcomer to the field, this innovative device is your key to precision, reliability, and safety in livestock healthcare.

Order yours now and experience the difference for yourself!