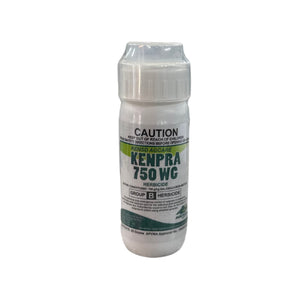 Kenpra 750WG Herbicide - 25g

Take Command with Kenpra 750WG

Kenpra 750WG Herbicide is your precision tool for post-emergence control of Nutgrass in essential crops like Sugarcane, Corn/Maize, and Sorghum. It also excels in selectively addressing Nutgrass and Mullumimby Couch in Turf. This potent formula is engineered for accuracy and efficiency.

Key Features:
- Crop-Specific Control: Tailored for Sugarcane, Corn/Maize, and Sorghum, this herbicide is designed to specifically combat Nutgrass, ensuring optimal crop health and yield.
- Turf Warrior: Ideal for use in turf management, it provides selective control over Nutgrass and Mullumimby Couch, maintaining the pristine appearance of your turf.
- Shielded Precision: When it comes to Cotton, Kenpra 750WG Herbicide proves invaluable, particularly when applied using shielded sprayers for precise Nutgrass control.

Active Constituent:
750g/kg Halosulfuron-Methyl

Say goodbye to Nutgrass woes and invest in Kenpra 750WG Herbicide for targeted, effective control. Preserve the vitality of your crops and turf with this powerful herbicidal solution.