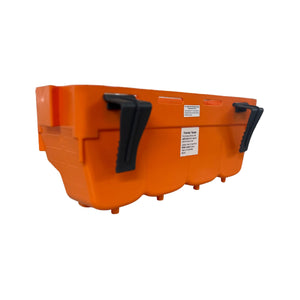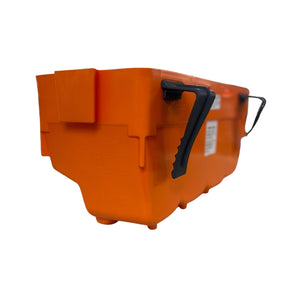 Lamb Feeder - Milk Train

A revolutionary four-place, individual chamber rail feeder designed for the optimal nourishment of your lambs. Crafted in New Zealand, this feeder offers unparalleled convenience and versatility, ensuring ease of use and efficient feeding for farmers.

Key Features:

- Individual Chamber Rail Feeder: The Milk Train lamb feeder is innovatively designed with four individual chambers, providing a dedicated feeding space for each lamb. This feature ensures that each lamb receives the nutrition it needs without competition, fostering a stress-free feeding environment.

- EXCAL Little Softy No-Leak Teats: The feeder utilises the renowned EXCAL Little Softy (white) no-leak teats, known for their reliability and functionality. These teats provide a consistent and controlled milk flow, preventing leaks and minimizing waste during feeding sessions.

- 4L Capacity with Individual Chambers: Each chamber of the Milk Train lamb feeder has a 4L capacity, with individual chambers holding 750ml each. This thoughtful design allows for precise control over the amount of milk each lamb receives, promoting optimal growth and development.

- Connect Feeders for Larger Groups: For larger groups of lambs, the Milk Train feeders can be easily connected together. This modular design allows farmers to create 8 or 12-place feeders, adapting to the size of their flock. The versatility of the Milk Train ensures flexibility in feeding arrangements.

- Designed and Manufactured in NZ: Crafted in New Zealand, the Milk Train lamb feeder reflects the commitment to quality craftsmanship. Designed with the unique needs of farmers in mind, this feeder is a testament to the innovation and expertise of New Zealand manufacturing.

- Convenient Nesting Design: The feeders are designed to nest together with teats on, facilitating easy movement and storage. This practical feature enhances the efficiency of farm operations, allowing for convenient handling and storage when not in use.

- Replaceable Rail-Hooks: The Milk Train feeder is equipped with replaceable rail-hooks that secure the feeder to most pipe or wood rails up to 38mm thick. This ensures stability during feeding sessions, providing a secure and reliable feeding solution.

Elevate your lamb feeding routine with the Milk Train Lamb Feeder, a product designed for efficiency, adaptability, and the well-being of your lambs. Whether you have a small group or a larger flock, the Milk Train provides a convenient and customizable solution, reflecting the ingenuity of New Zealand craftsmanship in agricultural equipment.