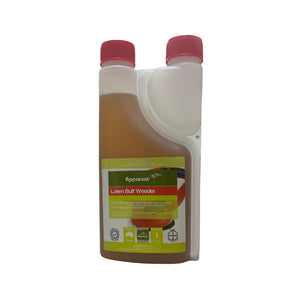 Lawn Buff Weeder - 1L

A powerful herbicide meticulously formulated for precise control of a wide range of weeds in various turf types, including Buffalo, Couch, and Queensland Blue Couch lawns. With an active blend of 200g/L Bromoxynil (n-octanoyl ester), 200g/L MCPA (ethylhexyl ester), and a solvent base of 343g/L liquid hydrocarbons, this weeder is a superior choice for maintaining lush, weed-free lawns.

Key Features:

Dual-Action Weed Control: Lawn Buff Weeder combines the synergistic effects of 200g/L Bromoxynil and 200g/L MCPA, delivering a potent formulation for the control of common weeds like Bindii, Clover, Oxalis, and more. This dual-action approach ensures thorough and effective weed eradication.

Turf Compatibility: Suitable for use on established Couch (including Queensland Blue Couch), Bent, Buffalo (except ST varieties), Fescue, Kikuyu, Paspalum, and Rye, Lawn Buff Weeder provides versatile compatibility across a range of turf varieties, making it an ideal choice for homeowners and landscapers alike.

Comprehensive Weed Spectrum: Targeting an extensive list of weeds, including Bindii, Capeweed, Catsear, Clover (excluding TAS), Creeping Buttercup, Cudweed, Dandelion, Fleabane, Jo-Jo (Onehunga), Oxalis, Plantains, and Thistles, this weeder ensures broad-spectrum control for a pristine lawn appearance.

User-Friendly Liquid Form: With a solvent base of 343g/L liquid hydrocarbons, Lawn Buff Weeder is formulated for ease of use. The liquid form ensures convenient application and efficient absorption by target weeds, providing a hassle-free solution for weed management.

Domestic and Professional Use: Whether you're a homeowner seeking to enhance the beauty of your lawn or a turf professional maintaining large-scale landscapes, Lawn Buff Weeder is designed for both domestic and professional applications, ensuring consistent and reliable results.

Elevate the health and aesthetics of your lawn with the precision and effectiveness of Lawn Buff Weeder. Combat common weeds with confidence, and enjoy the lush, weed-free greenery you desire.

Click here to refer to the Directions for Use for tailored application guidelines to achieve optimal results on your specific turf type.