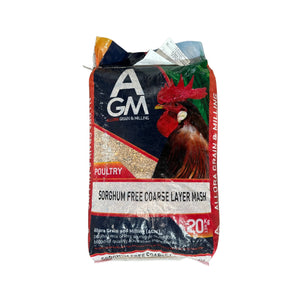 Sorghum Free Coarse Layer Mash – 20kg

The ideal nutritional solution for your laying birds. Formulated with a meticulous blend of high-quality ingredients, this specialized feed is designed to meet the unique dietary needs of laying hens without the inclusion of restricted animal material.

Direction for Use:
This Sourghum Free Laying Mash is tailored for laying birds, recommended for use from approximately 20 weeks of age up to 80 weeks. As a complete feed, it simplifies your feeding regimen by providing a balanced and comprehensive nutrition profile for your flock.

Feeding Recommendations:
For optimal results, ensure your hens have unlimited access to this coarse layer mash. Additionally, clean, cool fresh water should be readily available at all times to support hydration and overall well-being.

Ingredients:
This Sorghum Free Coarse Layer Mash is crafted with care, using a thoughtfully selected mix of premium ingredients:
- Wheat: A wholesome source of energy.
- Cracked Maize: Adds variety and texture to the feed.
- Barley: Contributes to a well-rounded nutritional profile.
- Sunflowers: Rich in essential nutrients.
- AGM Vitamin & Mineral Pre-Mix: Ensures a balanced diet for optimal health.
- Lime: Supports shell quality and overall digestive health.
- Soya Bean Oil: Provides essential fatty acids for feather health and egg production.
- Molasses: Enhances palatability and serves as a natural energy source.

Key Features:
- Sorghum Free: Ideal for those seeking an alternative to sorghum-based feeds.
- No Restricted Animal Material: Ensures a vegetarian and ethically sourced formula.
- Complete Feed: Simplifies feeding routines by offering a comprehensive nutritional package.
- High-Quality Ingredients: Crafted with precision to meet the specific needs of laying hens.
- Supports Egg Production: Formulated to promote healthy laying and egg quality.

Choose AGM Sorghum Free Coarse Layer Mash for a nutritionally balanced and ethically sourced feed that supports the well-being and productivity of your laying birds. Trust in our commitment to quality, and watch your flock thrive.