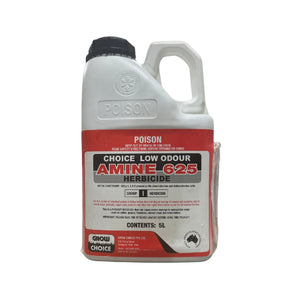 Choice Low Odour Amine 625 Herbicide - 5L

Powerfully Effective, Minimally Disruptive

Tackle broadleafed weeds with precision using Choice Low Odour Amine 625 Herbicide—an advanced solution crafted for effective weed control without compromising olfactory comfort. With an active constituent of 625g/L 2,4-D, present as the dimethylamine and diethanolamine salts, this Phenoxy Herbicide is engineered for versatility in fallow lands, cereals, pastures, sugar cane, peanuts, and non-agricultural areas.

Key Features:

Broad Spectrum Control: Choice Low Odour Amine 625 Herbicide is your go-to solution for the comprehensive control of broadleafed weeds. Its potent formulation ensures a robust defense against invasive weeds, promoting the health and vitality of your crops and landscapes.

Fallow Applications: Ideal for use in fallow lands before direct drilling or sowing of cereals and pastures. Prepare your fields with confidence, knowing that unwanted weeds are efficiently managed.

Versatile Crop Compatibility: Extend the application across various crops, including cereal crops, pastures, sugar cane, and peanuts. The flexibility provided ensures that your weed control efforts are seamlessly integrated into diverse agricultural practices.

Non-Agricultural Use: Beyond traditional crops, Choice Low Odour Amine 625 Herbicide proves its efficacy in non-agricultural areas, offering a reliable solution for weed control in diverse landscapes.

Low Odour Formula: Experience the power of effective herbicide without the discomfort of strong odours. Choice Low Odour Amine 625 Herbicide prioritizes a low odour profile, ensuring a more pleasant application experience.

Caution: While Choice Low Odour Amine 625 Herbicide is a powerful weed control solution, exercise caution as it falls under the category of Phenoxy Herbicides. This herbicide can cause severe damage to susceptible crops such as cotton, grapes, tomatoes, oilseed crops, and ornamentals. Be vigilant in application to avoid unintended consequences on sensitive vegetation.

Choose Choice Low Odour Amine 625 Herbicide for a potent, versatile, and minimally disruptive weed control solution. Empower your agricultural practices with a herbicide that prioritizes effectiveness and user comfort.
Click here for more information.