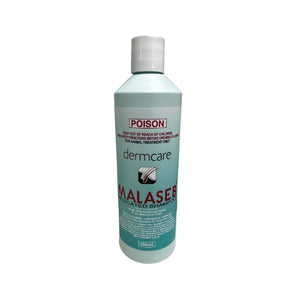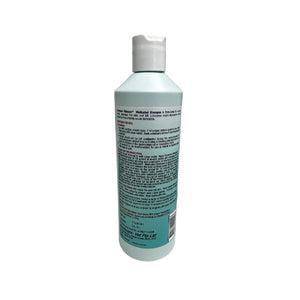 Dermcare Malaseb Medicated Shampoo - 500mL

Your Pet's Ultimate Defense Against Skin Issues! Powerful Antifungal and Antibacterial Relief.

When your furry companion is facing skin troubles, you need a solution you can trust. Dermcare Malaseb Medicated Shampoo is your go-to answer. Specifically designed for dogs and cats, this remarkable shampoo is a potent blend of antibacterial and antifungal properties, offering a multi-pronged approach to combat skin issues.

Key Benefits:
- Seborrhoeic Dermatitis Relief: Say goodbye to seborrhoeic dermatitis worries. Dermcare Malaseb Medicated Shampoo is highly effective in addressing this skin condition associated with bacteria (Staphylococcus pseudintermedius) and yeast (Malassezia pachydermatis). Your pet can now enjoy itch-free, healthy skin.
- Ringworm Treatment Aid: Dealing with ringworm can be challenging, but Dermcare Malaseb Medicated Shampoo is here to help. It serves as a valuable aid in the treatment of ringworm (dermatophytosis) infections, ensuring your pet's skin is on the path to recovery.
- Gentle and Effective: This medicated shampoo is formulated to be gentle on your pet's skin while still delivering powerful results. You can use it with confidence, knowing it's specially crafted for your beloved four-legged friend.
- Easy to Use: Dermcare Malaseb Medicated Shampoo is hassle-free to apply. Simply follow the directions on the bottle for a soothing and refreshing bathing experience for your pet.
- Trusted by Professionals: Veterinarians and pet owners alike trust Dermcare Malaseb for its proven efficacy in managing various skin conditions. It's the go-to choice for those who prioritise their pet's well-being.

When it comes to your pet's skin health, trust in Dermcare Malaseb Medicated Shampoo to provide the relief and comfort they deserve. Don't let skin issues hold your furry friend back from enjoying life to the fullest. Elevate their well-being with Dermcare Malaseb Medicated Shampoo today. Your pet will thank you for the care and comfort you provide.

Order now and see the difference for yourself.