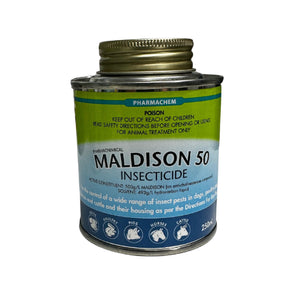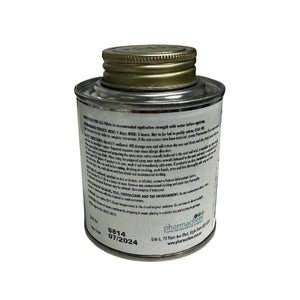 Maldison 50 Insecticide - 250mL

Your Ultimate Defense Against Pests! Versatile Pest Control.

When it comes to pest control across a range of animals and environments, you need a reliable solution that delivers results. Pharmachem Maldison 50 Insecticide is the go-to insecticidal concentrate designed to tackle a variety of pests that plague your animals and surroundings.

Key Features:
- Multi-Pest Control: Maldison 50 Insecticide is your all-in-one solution for controlling a wide range of pests, including lice, fleas, brown dog ticks, sarcoptic mange, poultry mites, lice, fowl ticks, flies, and mosquitoes. Whether you have horses, pigs, cattle, poultry, dogs, or cats, this versatile insecticide has you covered.
- Effective Pest Management: This insecticidal concentrate is formulated with precision, using organo-phosphorous anti-cholinesterase compounds that target the central nervous system of parasites. This means it's highly effective against troublesome pests such as mosquitoes, lice, poultry mites, fowl ticks, dog fleas, brown dog ticks, and sarcoptic mange.
- Wide Range of Applications: Maldison 50 Insecticide is perfect for use in various settings, including dairies, stables, rubbish dumps, and piggeries. It's your trusted partner in maintaining a pest-free environment for your animals and livestock.
- Safe and Reliable: Trust in the quality and reliability of Maldison 50 Insecticide. It's a proven solution that ensures the well-being of your animals by effectively controlling and managing pests.
- Comprehensive Pest Protection: Protect your animals from the discomfort and health risks associated with pests. This insecticide provides comprehensive pest protection for a variety of species, ensuring they remain happy, healthy, and pest-free.

Don't let pests disrupt the well-being of your animals and the cleanliness of your environment. Pharmachem Maldison 50 Insecticide is the trusted choice for effective and reliable pest control. Keep your animals and surroundings free from pests with ease.

Order Pharmachem Maldison 50 Insecticide today and experience the difference in pest management.