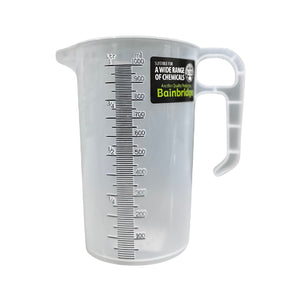 Measuring Jug - 1L

High-quality measuring jug crafted for precise chemical measurements. With added wall thickness, it ensures durability and strength. The sturdy handle, featuring a finger grip and ample space for controlled pouring, is glove-friendly. Its dual-purpose non-drip spout minimizes splashback, while the extra space between the full measure and the top reduces spillage risks. The permanent raised graduations, printed in black for quick visibility, include a dual scale in millilitres and litres.

Various sizes available, ranging from 250ml to 5 Litres, to meet your measurement needs.

Please be sure to check the label of products you are using with this jug to ensure it is a compatible substance.