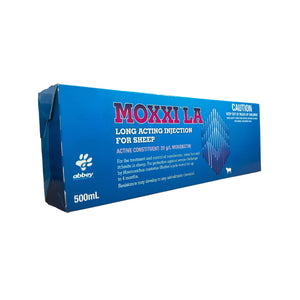 Moxxi LA - Long Acting Injection for Sheep - 500mL

When it comes to safeguarding the health and well-being of your sheep, you need a solution that offers long-lasting protection you can trust. Look no further than Moxxi LA, the ultimate choice for comprehensive parasite control in sheep.

Key Features:
- Extended Protection: Moxxi LA provides long-lasting protection that you can rely on. It offers treatment and control of roundworms, nasal bot, and itchmite in sheep, ensuring their continued well-being.
- Barber's Pole Worm Defense: Protect your flock against the severe challenge posed by Haemonchus contortus, commonly known as the Barber's pole worm. Moxxi LA provides protection against this harmful parasite for up to an impressive 4 months.
- Broad Spectrum Control: Say goodbye to worries about internal and external parasites. Moxxi LA delivers comprehensive control against a wide range of these pests, ensuring your sheep remain healthy and productive.
- Persistent Protection: Moxxi LA offers persistent protection against important worm species, reducing the need for frequent drenching and providing peace of mind for both you and your sheep.
- Less Drenching, Longer Duration: With Moxxi LA, you'll find yourself drenching less frequently, thanks to its extended protection. This not only saves you time and effort but also minimizes stress for your sheep during treatments.
- Wide Safety Margin: Moxxi LA has been formulated with a wide safety margin, ensuring the well-being of your sheep while effectively controlling parasites. You can use it with confidence, knowing that your flock is in safe hands.
- Concurrent Use: Moxxi LA is versatile and can be used concurrently with other treatments, allowing you to tailor your parasite control strategy to your specific needs and challenges.

Choose Moxxi LA for the peace of mind that comes with long-lasting protection and the convenience of less frequent treatments. Keep your sheep healthy, happy, and productive, while also reducing the impact of Barber's pole worm challenges. Moxxi LA is the trusted choice for comprehensive parasite control in sheep.

Invest in the well-being of your sheep today with Moxxi LA - Long Acting Injection for Sheep. Order now and experience the difference that extended, reliable protection can make for your flock. Your sheep deserve nothing but the best.