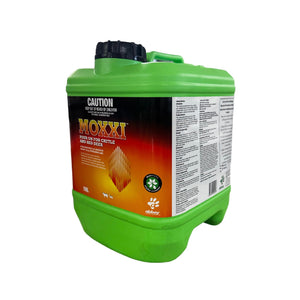 Moxxi - Pour-On for Cattle and Red Deer - 10L

Moxxi Pour-On is a powerful and reliable moxidectin-based treatment, specially designed for the effective control of moxidectin-sensitive internal and external parasites in cattle. Additionally, it provides essential care for red deer by targeting lungworms and gastrointestinal roundworms.

Key Features:
- Broad Spectrum Control: Moxxi offers comprehensive protection against a wide range of internal and external parasites, ensuring the health and well-being of your cattle and red deer.
- Persistent Activity: Moxxi's formulation maintains its effectiveness over time, offering ongoing protection against important worm species.
- Rainfast and Weatherproof: Moxxi stands strong even in adverse weather conditions, ensuring consistent performance.
- Non-Irritant Formulation: The formula is gentle and non-irritating, ensuring the safety and comfort of your animals.
- Wide Safety Margin: Moxxi provides a significant safety margin, making it suitable for various treatment scenarios.
- Concurrent Use: Moxxi can be used alongside other treatments for enhanced parasite control.
- NIL Withholding Periods for Cattle: There's no need to wait after treatment; your cattle can return to their regular activities right away.

Invest in the health and comfort of your cattle and red deer with Moxxi Pour-On - the potent and dependable choice for comprehensive parasite control. Experience the difference that Moxxi brings to your livestock management.

Active Constituents: 5 g/L MOXIDECTIN
Solvent: 150 g/L HYDROCARBON LIQUID
Click here for more information.