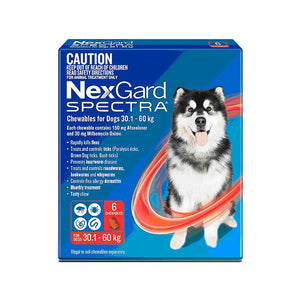 NEXGUARD SPECTRA FOR EXTRA LARGE DOGS (WEIGHING 30.1KG - 60KG) - 6 PACK

Nexgard Spectra is a revolutionary new parasite prevention product which protects your dog from fleas, ticks, mites, intestinal worms, and heartworm for a full month.

Nexgard Spectra combines two active ingredients to provide complete protection against the most common internal and external parasites of dogs in Australia.

Like Nexgard, Nexgard Spectra protects against fleas, mites and ticks, but has the added benefit of protecting against roundworms, hookworms, whipworm, heartworm and the flea tapeworm.

It comes as a soft, tasty beef-flavoured chew which your dog will love.